Premier Pressure Washing Services in Boerne
If you're a homeowner or business owner, then you know that keeping your property clean is essential. It makes a good impression on visitors, family, and clients, but it's also necessary for health and safety. That's where pressure washing services comes in.
A professional power washing company can clean your Boerne commercial or residential property quickly and efficiently, leaving it looking like new.
At Bellows Window Cleaning in Boerne, we offer pressure washing services for commercial and residential properties of all types. Here are six reasons to call experts for commercial and residential power washing services:
1) Boost Curb Appeal – As a business owner, you know first impressions are essential. When customers or clients drive up to your building, you want them to see a well-maintained property that looks clean and professional. Pressure washing your commercial space can help create that impression by removing dirt, grime, and other build-ups from the exterior of your building. This also goes for residential properties as well.
At Bellows Window Cleaning in Boerne, we have an expert team of pressure washing professionals who can help keep your commercial or residential space looking its best. We always use the latest power washing equipment to clean all surfaces, including brick, stone, siding, concrete, etc.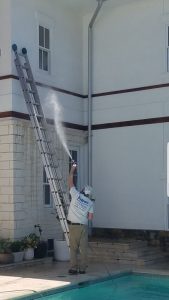 2) Save Time & Money – Commercial and residential properties are significant investments. You want to keep them in top condition to protect your investment and ensure a high ROI or resale value. Power washing is a cost-effective way to do that.
An expert pressure washing company like Bellows Window Cleaning always has the right equipment and detergents to clean your property quickly and efficiently. We will also know how to avoid damaging your Boerne property while providing you with the most premier power washing services.
Call Bellows Window Cleaning in Boerne for the best residential or commercial pressure washing services. We'll help you keep your property looking its best in not time.
3) Prevent Potential Damage – By power washing your commercial or residential property, you can prevent any potential damage caused by elements like smoke, soot, and dust. These elements can cause long-term damage to your property if not removed promptly.
Calling a pressure washing company to remove these elements regularly can help you avoid costly repairs down the road.
Not sure how often you should have your residential or commercial property pressure washed? The experts at Bellows Window Cleaning in Boerne can help you develop a pressure washing schedule that meets all your needs.
4) Cleaner & Hygienic Surroundings – A power washing company will always have the right equipment and know-how to clean your premises thoroughly. It also includes getting rid of any mold, mildew, or dirt accumulated over time.
Pressure washing will leave your Boerne property looking cleaner and more hygienic for family, friends, employees, and customers alike. Call Bellows Window Cleaning in Boerne for the best pressure washing services!
5) Find Smaller Repairs & Save Money – Power washing can also save you money by revealing minor issues with your property before they turn into big, expensive problems. By regularly pressure washing your buildings, you can keep an eye out for any potential repairs that need to be made.
Whether you're a business owner or homeowner, it's essential to keep your commercial and residential space clean. Our Bellows Window Cleaning in Boerne offers affordable pressure washing services that can help you achieve the level of cleanliness you need.
"Bellows Window Cleaning is the best! Reliable and do a great job! I wouldn't call anybody else to clean my windows. Thanks for doing such a good job in a timely manner . :)"
"Great service and the guys did a very good job. I will definitely have them come back when the windows and patios need service again. Not just a fair price but excellent service and quality work. Thanx, Bellows."
"I have had Bellows do my window cleaning for the past 7 years or so. They have always done a great job - on time, efficient and friendly."
SAN ANTONIO AREAS SERVED…
Helotes | Boerne | Bulverde | Bandera | Lakehills
Clearly The Clean Choice!
Our Service is Done Right the First Time, Every Time!